The film is based on the Hollywood producer's story of abuse and sexual misconduct for which he was sentenced to 23 years in prison.
Reality surpasses fiction. A premise that is perfectly fulfilled after airing a dark story of abuse in the city of Hollywood that was brought to the big screen in a film that will shake moviegoers due to an acute perspective of the "Weinstein" case.
We refer to the movie "She said" (She said) that this day arrives at Cinepolis. The tape reveals how two journalists from The New York Times managed to uncover the scandal of producer Harvey Weinstein, who is serving a sentence for several sexual assaults and is being tried for several more.
The tape is directed by Maria Schrader and is based on the American newspaper's investigation, carried out by journalists such as Jodi Kantor, Megan Twohey and Rebecca Corbett, which exposed Harvey Weinstein's story of abuse and sexual misconduct against dozens of women.
Read also: They are looking for extras to participate in the film "Fireflies in the Mozote"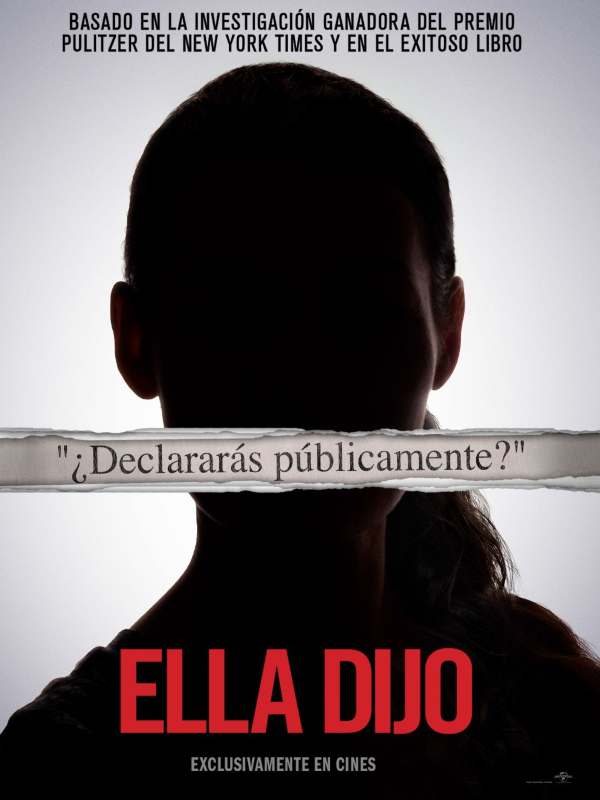 More specifically, it is inspired by the 2019 book of the same name that recounts the investigation of Kantor and Twohey, who are played in the film by actresses Zoe Kazan and Carey Mulligan, and who revealed the murky history of the co-founder of the film studios. by Indiewood Miramax & The Weinstein Company, Harvey Weinstein.
"She Said" previously premiered at the 60th New York Film Festival on October 13 and is now in theaters from Universal Pictures.
After an intense and complicated investigation due to the initial refusal of the victims to give their testimony with their first and last names, in October 2017 the newspaper uncovered the case.
It may interest you: "Someone didn't see me on the show, or on any other on the network": Chiquibaby after being fired from Telemundo
For more than three decades, Weinstein sexually harassed actresses, production assistants, temporary workers and other employees at Miramax and The Weinstein Company.
The accusations served as a catalyst for the "MeToo" movement and caused the producer to end up in prison, sentenced to more than 23 years by a New York court.
In addition, he is currently undergoing a new trial in Los Angeles, where he is accused of eleven counts of rape and sexual abuse of five victims.
This is the second that the producer of films such as "Pulp Fiction" or "Shakespeare in Love" has faced, after being sentenced by a New York court in 2020 to 23 years in prison for similar crimes.
If convicted of all crimes, the producer could receive a sentence of up to 140 years in jail.
Weinstein's conviction in New York marked a great triumph for the #MeToo movement in its feminist fight against sexual abuse and assault.
In all, more than 80 women have accused the former producer of sexual offenses and misconduct.
In the tape that arrives today at Cinepolis, you can also see actors like Patricia Clarkson, Andre Braugher, Jennifer Ehle and Samantha Morton in supporting roles, and Ashley Judd as herself.
Source-news.google.com