Lara Fabian is told in a gourmet autobiographical work entitled "Everything". The opportunity for the singer to discuss her fulfilling family life, she who has just celebrated her 30-year career on stage.
On the occasion of the release of her gourmet autobiography "Everything" (Libre Expression editions), in which she delivers anecdotes and cooking recipes, Lara Fabian shared some secrets about her thirty-year career, her family life and her passion. saving for the kitchen.
Paris Match. In an anecdote, you say that when you were a child and moved to Belgium, you missed the flavors and the sun of Sicily. Today you live in Quebec. How do you make up for the lack?
Lara Fabian. I am lucky to have the opportunity to travel, to find my island regularly. The way to compensate, however, is to go sometimes to this famous little Italian restaurant in Little Italy in Montreal and which imports all these incredible products that make me feel at home.
What's next after this ad
Are you considering an album in Italian to celebrate your origins and tell about the Sicily you love?
Not like this. Not in this form.
What's next after this ad
We won't hear you singing in Italian again…
Singing in Italian certainly, but not an album dedicated to Sicily. Maybe something that would be culturally oriented in the musical sense of the term.
You plan to take a break. How are you going to take care of yourself?
I've been busy enough in my life. I'm going to take my full break! In fact, it's a break that relates to wanting to be with family. It's a break where I get up early with my daughter in the morning, where I pick her up at school, I bring her back. It's a life where I become much more a mother and a wife than just the artist that I am.
What's next after this ad
What's next after this ad
When you were young, you felt alone and different. At that time you wrote your first texts. Was it to make you feel less alone?
It was a way of finding me a relief. A breath. I wrote little things in a diary, it wasn't songs yet, I was only nine years old. But the music, the piano, the fact of having a journal, it allowed me to express things that I could not say orally.
You say you prefer remorse to regret. Does this apply as much to your career as to your professional life?
Absolutely. I prefer to have had an experience even if in the end it may taste a little more acidic than to regret not having tried.
The secret of longevity
Always quoting you, you assure that one of the most difficult things in this job is to last. How did you meet the challenge?
By trying to live each day as another huge field of possibilities. By telling myself, what was done yesterday or what wasn't done yesterday, it's over. Today there is another possibility, another opportunity dawning. So always see life as something that allows us, not to look back, which is why I say I don't like regrets, but to always look forward. And then to stay honest.
In your book, you especially thank women, whereas it is mostly men who helped you launch your artistic career. What have these women brought you?
All. They brought me a different perspective on things, the power of comfort, a realignment when it was important. A clarification when it was important. The truth when someone had to have the courage to say it, it was often a woman who had the courage to say it. And then a lot of love, a lot of love.
For you, music is a family affair. Did your daughter, Lou, inherit this interest?
She plays guitar, Lou. Lately a lot moreover but I see that she really does it for pleasure. Not necessarily to make a career out of it. But besides, in my case, it was not at all a job a priori. For us, music was a way of being together, of celebrating. Instead of turning on the song, we sang a song that we all knew because dad was on the guitar, mum was on the song, grandma was on the piano. It was really something like a reunion.
Do you ever sing with your daughter?
It's happened to me once or twice. She doesn't like it because it's not what she prefers.
How do you feel when you sing with her?
It's very moving because we obviously have very compatible voices. She has an alto voice, I have a soprano voice. She's really kind of a missing part of my voice. So when we sing together, it creates a perfect unity. It's very very upsetting.
"My mom, the words of love she said are similar to those spoken by Gabriel"
You mention the significant meeting with your husband, the magician Gabriel di Giorgio, which immediately made you think of your mother. How does he remind you of your mother?
In the way he lives his life. He is someone who is really in the moment, who has a way of looking at things with great enthusiasm. He's a creative. I would say he is an engineer of joy. Even when it's very serious, he has a way of turning the prism of what's wrong with great dexterity and a will to resolve, to heal.
And it reminds you of your mother…
Absolutely… Mom was like that. And they look alike physically too. It's very special. My young mother and young Gabriel…it could have been her son. It's quite disturbing.
How do you approach this resemblance?
I live with a Sicilian. My mother was Sicilian so it's even greater as a cousin, as compared to this resemblance. The mirror is very big, very strong in the language, the words of love that I hear. My mom, the words of love she said are very similar to those spoken by Gabriel. And then the culture, the way of living, of eating, of giving priority to the family, to our friends. They look a lot alike for that.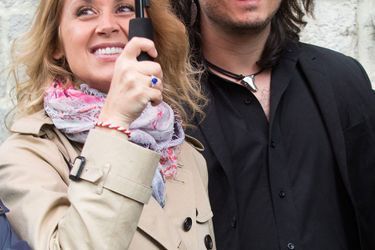 You have overcome eating disorders. How did you find your balance?
The women were very important, but one in particular. Her name is Masayo. I would say she saved me. In the way she had to re-present food to me differently so that I stop being afraid of it, that I stop avoiding it, that I sometimes see it as a work of art. Masayo is a great chef who is from Osaka. I don't know, she has this way of making food beautiful…
Your daughter inherited your passion for cooking, especially for baking. What did she teach you?
Fantasy. She taught me that fantasy is one of the first ingredients to put on the counter. That even if it's not perfect, it doesn't matter.
Do you have a favorite recipe for the end of year celebrations?
For the holidays, not really. But if you ask me for a favorite recipe, I'll tell you the risotto, which I do well. But for the holidays… Probably the pasta al forno. So it's pasta with all kinds of ingredients that we mix in a timballo, a kind of mould. We put them in the oven and put them back on a tray and cut the pasta into slices. It sounds strange but it's a kind of reinvented lasagna.
Do you cook during the holidays?
Yes, me, Lou… The women of this family.
In your book, you present a multitude of cuisines from different cultures. In which flavors do you find the most resonance?
Apart from those of my culture, the culture of my mother which is Italy, Japan definitely.
Why ?
Its finesse, its elegance, the care of the ingredient, its purity.
Your quintessential comfort food?
There is one foot in one culture, one foot in the other. In my mom's culture it would be the lasagna pasticcio. And in my dad's, it would be this hotpot, a mixture of potatoes and seasonal vegetables, mashed with butter and nutmeg. That I love! It reminds me of my childhood. These are really two dishes that I ate when I was little.
Your guilty pleasure?
The chocolate mousse with whipped cream on top accompanied by a small sponge cake that I dip in the whipped cream and in the chocolate mousse. Can I add strawberries dipped in white chocolate?
Follow a recipe to the line or let creativity do the talking?
In some cases like a risotto, it is very important to have the right amount of water, the right broth so there is still a method to follow. But in general I am more in the creativity than in the method. Besides, it is a gourmet autobiography. He's not someone who invents himself as a leader. I am a girl who cooks for the people she loves.
Source- https://www.parismatch.com/people/lara-fabian-chanter-avec-ma-fille-lou-est-bouleversant-des-voix-tres-compatibles-219155