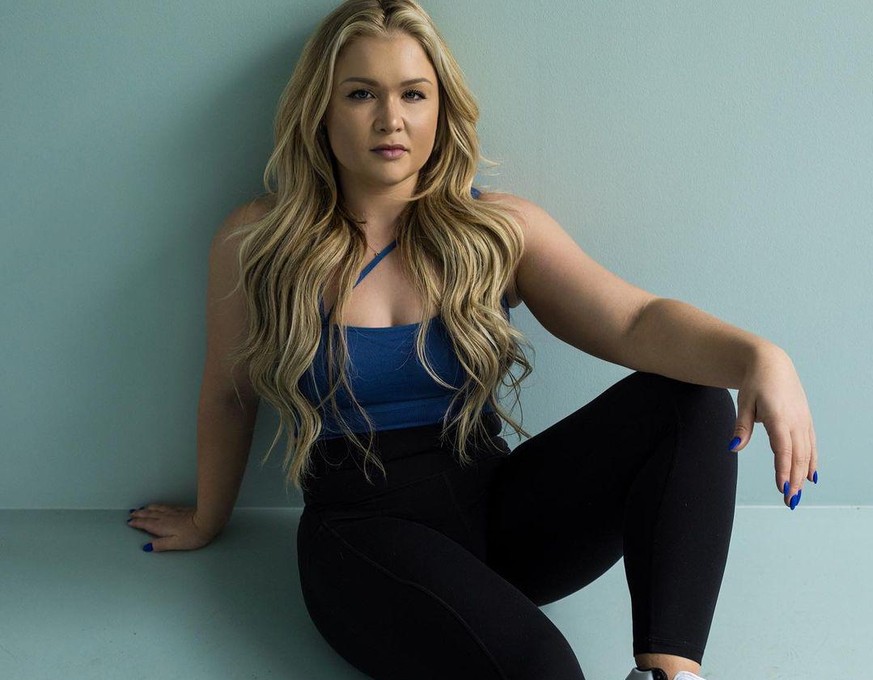 Sophia Thiel is very open about her body weight on the net.Image: Screenshot / Instagram / sophia.thiel
Sophia Thiel is completely transparent with her body measurements. The influencer has been known for her fitness content on Instagram and YouTube for years. In addition, she gives her viewers nutrition tips and is also quite open about struggling with a severe eating disorder during her main bodybuilding phase.
She had immense problems around two years ago, even with small weight gains, as she described in Vanessa Mai's online talk format "On Mai Way". A network break related to growing pressure should only last a few months, as Sophia remembered, but her body thwarted her plans at the time: "I thought I could only do social media with a certain body ideal, otherwise I'm out of the picture. Because I also noticed that I get shitstorms when I gain weight."
She now has a healthier relationship with her body and primarily pays attention to her health and fitness, says the 27-year-old. Completely surprisingly, she broke one of the last taboos on her social media channels and revealed how many kilos she weighs. However, her fans reacted in two ways.
Sophia Thiel's fans are not completely convinced of the weight disclosure
Sophia now announced on Instagram that she had had a complete check-up at the Center for Prevention and Sports Medicine at the Technical University of Munich. Not only did she step on the scales, she also had her heart and lungs checked and her muscle and body fat percentages measured.
As a reason why she decided to take this step, she stated on the social media platform: "One of the most frequently asked questions from the community: 'Sophia, how much do you weigh?' or 'What is/was your body fat percentage?'" Then she even let her fans estimate how difficult she was at the moment.
But there is another reason behind the measurement at the Munich University: "To mark the starting point of my new journey." Sophia no longer wants to limit her training to strength training, but also pay attention to her endurance.
Some followers also estimated their weight in the comments, but some also criticized their decision to make their weight public. Numbers like this could negatively affect others affected by eating disorders: "Is that really that important? Isn't it also a typical trigger? You're great, no matter what weight" and "Dear Sophia, I don't give a damn how much or little you weigh. The main thing is that you are at peace with yourself and your body," numerous commentators wrote critically.
However, the influencer gives an exact figure of her weight on YouTube
Undeterred by this, Sophia finally showed on YouTube what came out of her check-up. After some tests, it turned out that her muscle mass is higher than average and her body fat percentage is 26 percent. Her weight is estimated at 88.6 kilograms. But Sophia didn't want the numbers to appear in the video without comment either. Here is how she explained it in detail:
"Our weight is very, very important in our society, many don't want to say it and I haven't weighed myself for a very, very long time, never wanted to have numbers. I've never been able to weigh myself because it's either the saved the day or ruined it. When I lost weight, then the day was great and when I gained weight, it was bad. And that's why I didn't want to let it affect me anymore, because you also associate a lot of emotional things with it."
The influencer reported that such an emotional weight limit for her was 50 kilos of body weight, but she could never reach it: "Even at my most defined times in 2018, when I really felt that I had hardly any body fat, I still weighed 68 kilos"she revealed.
But it is important, she and a doctor advised in the video, that everyone find their individual feel-good weight that also suits their body and stature – after all, every body is different. Finally, Sophia reported on her future plans: "I used to try to lose weight in a caloric deficit, but I think it makes more sense to exercise and eat more to fuel the body."
After a certain time, she wants to be tested extensively again, even if she has worked on her stamina and fitness and wants to have the values ​​evaluated professionally again. Even then she will certainly let her community participate again – even if not all fans seem to be convinced of this approach.
(cfl)
Source-www.watson.de