Harry's autobiography "Spare"
Scandal with tea and cookies – suddenly William is said to have shot Meghan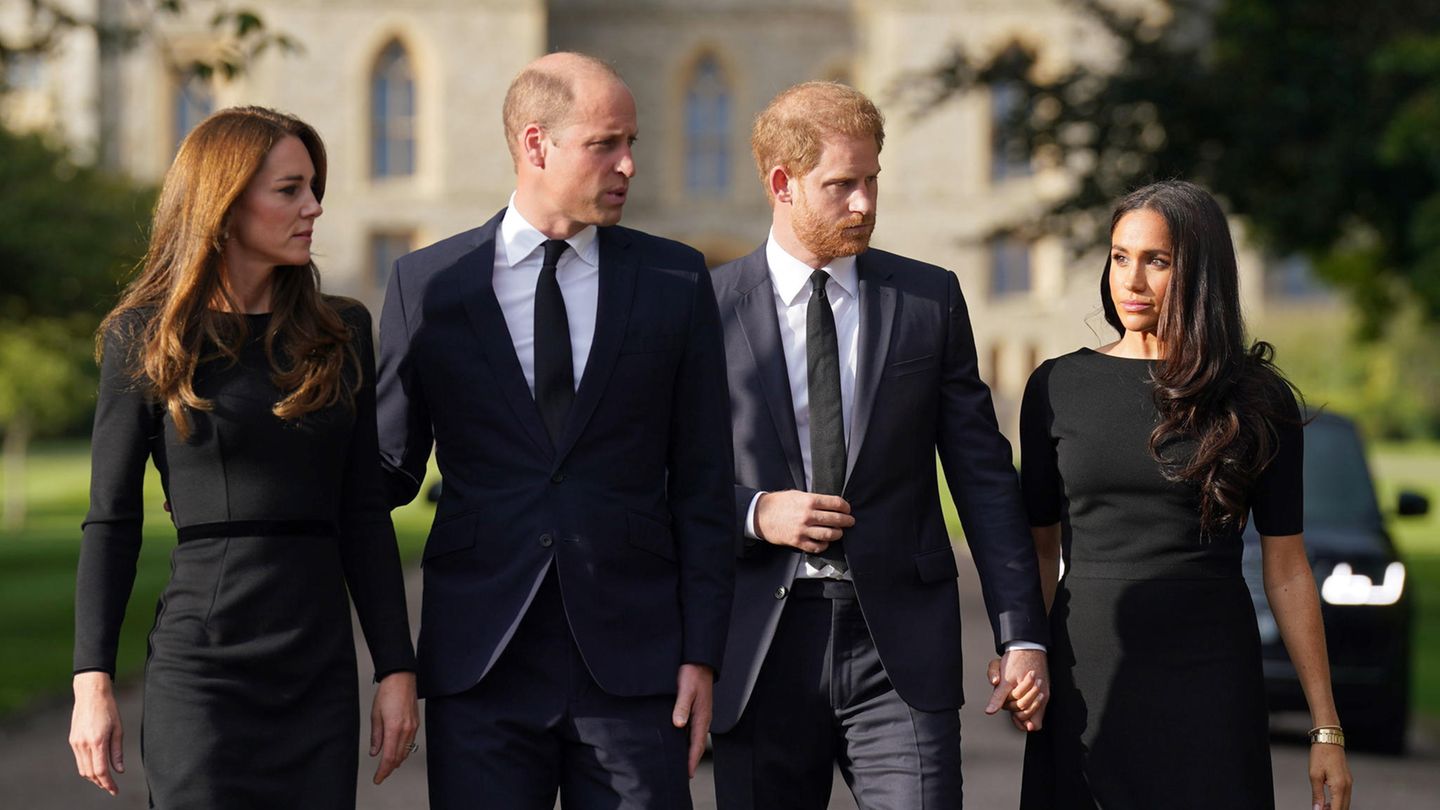 To ease tensions, Duchess Meghan and Prince Harry address issues at Prince William and Kate in 2018. But the conversation slips away.
In the run-up to Prince Harry and Meghan Markle's wedding, there was tension in their relationship with Prince William and Kate, writes the younger of the brothers in his autobiography "Spare". This included the dispute over the flower girl dress that Princess Charlotte was to wear to her uncle's wedding. According to reports from "US Weekly" and "Paige Six", Kate complained that it was too long and too wide and her daughter burst into tears because of it. Today's Princess of Wales then asked for the dress to be changed. With all the back and forth a few days before the wedding, it was finally Meghan who sat on the floor in tears.
About a month later, Meghan and Harry were guests in William and Kate's apartment. Over tea and cookies, the couples first talked about the children for the first few minutes. But then the heir to the throne was visibly upset because they had not received any Easter gifts from the Sussexes. Harry wrote in his book that the royals never exchanged gifts on this holiday, but apologized anyway.
"Spare": William flares up, Meghan reacts coldly

Finally, the conversation turned to the preparations for the wedding and Kate noted that Meghan owed her an apology. Accordingly, Kate messed up the times for the rehearsals and Meghan put it down to her sister-in-law's "Baby Brain" and her hormones. In April 2018, Kate gave birth to his son Louis. In "Spare" it can be read that today's Princess of Wales added: "We are not so close that you could talk about my hormones." Meghan therefore apologized, but also stated that she would make such a comment to other friends as well. Now William jumped into the breach for his wife and called Meghan "rude". He waved his finger in her face and told her: "It doesn't work like that here." Harry recalled in his book that his wife replied, "If you don't mind, get your finger out of my face."
At the request of various media, Buckingham Palace and Kensington Palace only announced that they did not want to comment on the content of Harry's book. It is not known whether the descriptions of the 38-year-old are shared by all sides.
Source-news.google.com