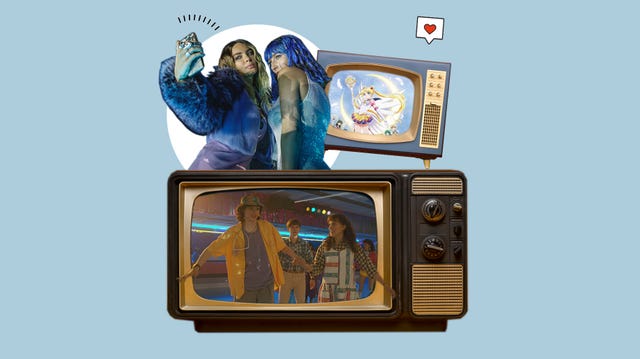 BEATRIZ BARRIONUEVO / NETFLIX / GETTY IMAGES.
Best erotic series on Netflix.
The best comedies on Netflix.
---
We have had to wait three long and intense years for the return of 'Stranger Thing 4', but the new installment is about to start and we can not contain the excitement. The long-awaited fiction by the Duffers is one of the more powerful premieres for this May 2022, but there are many more Netflix movies and series which you should keep track of. Regarding the return of Eleven and the whole bunch, it should be noted that we will only have access to the first part of this batch of chapters because the outcome will come in July. What they like to make us suffer.
Now we will see the boys in full adolescence, there will be a jump in time, a new monster and many more adventures. They will be as intense as those of the kids from 'Welcome to Eden', another of the big bets for the coming weeks. Juvenile fiction shows that paradise can become hell. Much more relaxed will be the third and last installment of 'Three meters over the sky'. These will be joined by: season 5 of 'The Outsider', 'Clark', 'Blood Sisters', 'The Sound of Magic', 'Lincoln's Lawyer' Y 'Who killed Sarah? 3'. While in cinema we will see 'Crossing the line', 'The year of my graduation', 'The perfect pairing' and the last of 'Sailor Moon'. If you want to know more, do not miss our analysis of all these titles below.
Netflix: series premieres for May 2022
Three meters over the sky. T3. May 4th
We only have one more summer left in 'Three meters above the sky'. Season 3 will mark the end of the Italian series that made us die of love with the relationship between Sami and Álex. The whole gang is preparing to embark on a path towards maturity, but first they will enjoy a few months full of emotions and, of course, passion.
The fringe. T5. May 4th
Last installment of the Argentine series in which we will know the final fate of Pastor and Diosito after their separation. On the other hand, the conflicts in Puente Viejo will become more acute.
Blood Sisters. May 5
A group of friends must escape after a millionaire man mysteriously disappears during an engagement party. Complex story that deals with gender violence, family pressures and revenge.
Clark. May 5th
If you liked 'The Serpent' or 'The Tinder Swindler', take note of 'Clark'. This fiction tells the story of Clark Olofsson, a bank robber whose figure gave rise to the expression 'Stockholm Syndrome'.
Welcome to Eden. May 6th
A group of social media-savvy guys are invited to an exclusive party on a secret island. It's an a priori plan, so everyone embarks on what will seem like a most exhilarating experience. However, when they arrive and 'Welcome to Eden', nothing is what they imagined.
The sound of magic. May 6th
Don't miss Netflix's new Korean bet in which a magician, who lives in a magical amusement park, changes the complicated life of a girl.
Lincoln's lawyer. may 13th
Mickey is a lawyer capable of facing any type of case from the back seat of his Lincoln car. After an incident, he will return to the asphalt to face a murder trial.
A vampire in the garden. May 16

After the humans lose the war against the vampires, several survivors take shelter in a place protected by a wall of light. On the other hand, there is Momo, who wishes to live with his enemies and will establish a special relationship with the queen of the 'bloodsuckers' that could change destiny.
Who killed Sarah? T3. May 18

Season 3 of 'Who Killed Sara?' It will be the outcome of the Mexican series and it seems that now the enemies can become accomplices and Álex, at last, will know what happened to his sister. As we have seen in the preview, the young woman would be alive…
Stranger Things. S4, part one. may 27th
It's time to return to Hawkins and find out what happened after the latest events. What will Eleven's new life be like outside the city? And her reunion with Mike? Once again the girl will be persecuted and she and her friends will have to face new challenges. According to its creators, 'Stranger Things 4' will be like a horror movie.
Netflix: movie releases for May 2022
Like every month Netflix has also prepared movie premieres for this May 2022 and we want to highlight 'Back to the institute' (May 13). Yes, we can't help but love these kinds of stories, and even more so if they're starred by Rebel Wilson's crack. She is coming back to life after two decades in a coma after doing a stunt as a cheerleader and now at 37 years old she wants to fulfill her big dream: to be the queen of the institute.
If you saw the drawings of 'Sailor Moon S', Don't miss the premiere of the film that will hit the platform on May 18. Also, list all these films:
-I swear I didn't go. May 1.
-Crossing the Line. May 2.
-Forties. May 4th.
-Incomprehensible 2. May 6.
-The perfect family. May 18.
-The perfect pairing. may 19.
-Have a good trip. may 23.
-Fuck love…again. May 20th.
-A voice against power. May 24.
This content is created and maintained by a third party, and imported onto this page to help users provide their email addresses. You may be able to find more information about this and similar content at piano.io
Source-www.cosmopolitan.com