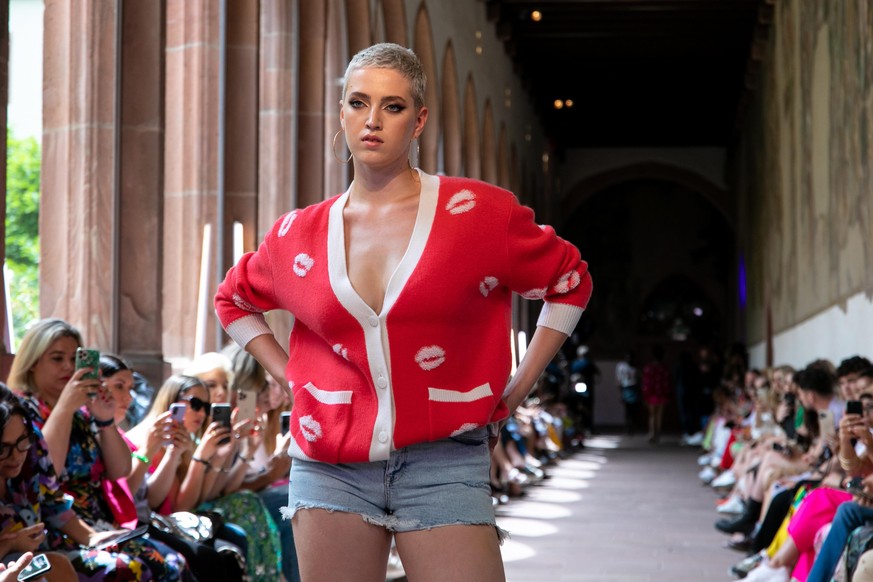 Lou-Anne is seen here at Frankfurt Fashion Week.Image: Joshua Sammer/Getty Images
At the beginning of February, Heidi Klum searched for "Germany's next top model" for the 17th time. The season was all about diversity. The oldest candidate was 68 and the youngest 18. In addition to age, height and dimensions no longer played a role. From 1.54 to 1.95 meters and clothing sizes from 30 to 54, a wide range of different model types was covered this year.
Heidi said on the show: "I'm still looking for a model who has that certain something. The demand for diversity is now greater than ever. Now I'm looking for new faces with a wide variety of heights, ages and personalities." In the grand finale were Anita, Lou-Anne, Luca, Noëlla and Martinawho fought for a Mac Cosmetics campaign, the cover of the German "Harper's Bazaar" and a prize money of 100,000 euros.
Finally, the 1.83 meter tall Lou-Anne won. "I can't believe it," she enthused. The Austrian now has a large community on Instagram with over 100,000 subscribers. In an interview with "celebrity flash"She now revealed whether she would like to focus more on a social media career.
Lou-Anne explains how she feels about influencers
When asked if Lou-Anne would rather conquer the fashion or influencer world, she said: "I'm leaning towards modeling. But everyone does a little bit of influencer stuff on the side. You have to be careful not to use too much. Otherwise you're really an influencer-influencer." She would also like to start internationally.
Incidentally, her mother Martina, who took third place, told the celebrity portal that she wanted to continue to maintain her Instagram account, "but on the fashion level, I'd rather stick to modeling," said the 51-year-old. The two are already well booked as models.
By the way, Heidi Klum has already commented on this topic. The "GNTM" Instagram account published the following quote from the 49-year-old: "Today, designers sometimes book their models based on the number of followers, so good marketing on social media is more important than ever." With a view to this, it can be explained why every candidate gets an official top model profile at the beginning of the show.
(iger)
Source-www.watson.de