One of the action sagas that found a solid fan base in recent times is The Expendables. The film written by and starring Sylvester Stallone.
The first installment was released in 2010, with Stallone and Jason Statham as protagonists. The story revolves around a group of mercenaries who are hired to infiltrate a South American country and overthrow its ruthless and corrupt dictator. Once there, they will be caught in a web of deceit and betrayal. Once the mission has failed, they will have to face an even more difficult challenge; save the unity of the group and the friendship that has united them for many years.
After a successful trilogy, in 2021 it was announced that the franchise would have a fourth film, which would bring together much of the original cast. The Expendables 4 will see Stallone return as Barney Ross, as well as Jason Statham, Dolph Lundgren and Randy Couture.
New cast members include 50 Cent, Megan Fox, Andy Garcia, Tony Jaa, Eddie Hall, Sheila Shah, Jacob Scipio, Levy Tran and Iko Uwais.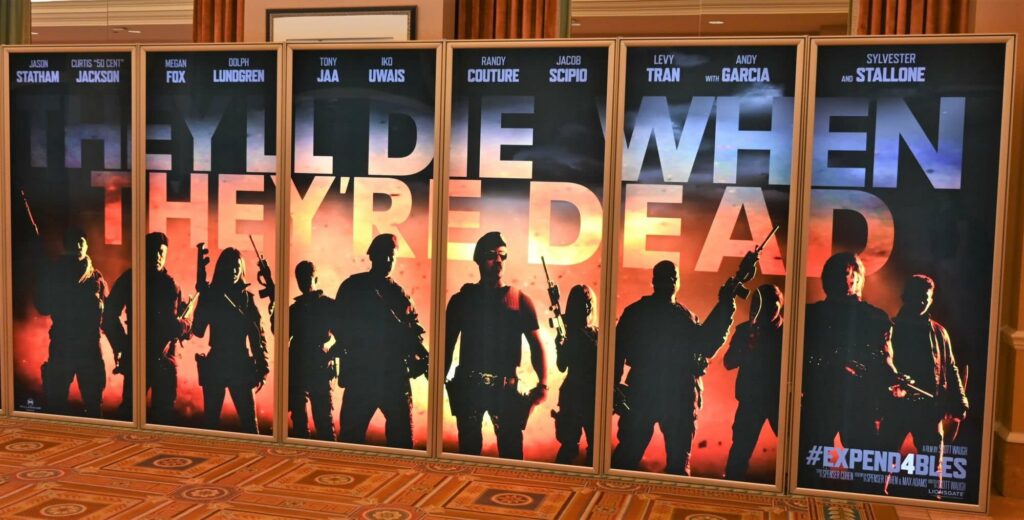 In the last few hours, a first look at The Expendables 4 was revealed, thanks to a first poster that debuted in the halls of CinemaCon in Las Vegas. This event brings together the major movie studios to present previews and previews of their upcoming releases.
Below you can see the large poster that shows the silhouettes of the 11 protagonists of the film, along with the title of the film and the phrase: "They will die when they are dead." You can also see the hashtag that accompanies the film and reads #Expend4bles.
The details of the plot of The Expendables 4 are still kept under lock and key, but surely we will soon have new details of the story. The film is directed by Scott Waugh from a screenplay by Spenser Cohen, Max Adams and John Joseph Connolly. Its premiere is scheduled for 2022.
Source-lapagina.com.sv