GUATEMALA CITY, GUATEMALA.- During his concert tour in Central America, Christian Nodal He has captured the attention of his followers for a series of events that range from a mysterious woman with whom he arrived in Honduras, to a spectacular fall in Guatemalan lands.
This last one is the one that has left his entire audience worried, since the Mexican composer fell on stage last Saturday.
READ: Nick Jonas shares the first photo of his baby after 100 days in the ICU
It was through his Instagram that the 23-year-old singer thanked his fans for their affection, after messages of encouragement for his resounding accident in the middle of the performance.
"My people from Guatemala, thank you very much for this incredible night, so special… I'm fine… Thank you for this full house, for singing each song with that energy, for the vibe… We love you! Thank you for so much!", wrote the ex of Belinda.
And despite not providing details about the painful incident, a few minutes later, he showed the consequences that led to one of his bandaged feet.
+Ana María Polo announces her return to television: what is it about?
"Today I kissed the stage," Nodal mentioned, giving the unfortunate situation a humorous tone. Along with the message, he shared a photograph where both feet appear, the left one injured and with a splint on his ankle.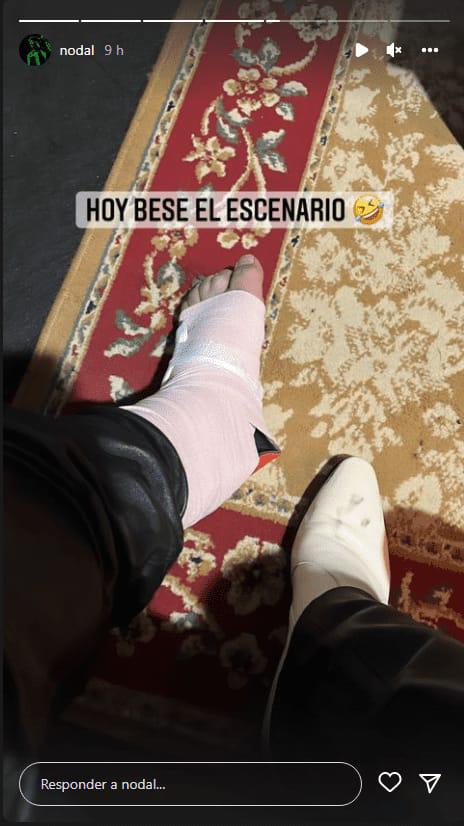 painful fall
Images circulating on social networks show the winner of the Latin Grammy while saying goodbye to his audience, when he suddenly stumbles and falls with a crash.
The cause of the slip could have been the moderate rain that fell on the place. And although she did not seem to be very showy, Nodal was slow to get up, and then left the stage limping and with the help of one of her staff members.
At the moment, the singer has not canceled the scheduled dates in the Central American country, where he appears with his Forajido tour.
SEE ALSO: Eduardo Umanzor addresses anxiety and hope in his new song
Source-www.elheraldo.hn