TEGUCIGALPA, HONDURAS.- In the last hours, the document of the complaint for domestic violence against Ricky Martincarried out by his nephew, Dennis Sánchez, who assured that they had an intimate relationship for seven months.
In the form, which is filled out when a person requests a restraining order for domestic violence, it can be seen that the 21-year-old man defined himself as the "person with whom he has had a consensual relationship."
In the fragment of the document where it says "Information on the petitioner" you can read the name Dennis Yadiel Sanchez Martinwho is supposedly the son of Vanessa Martin, the artist's sister on the father's side.
SEE: Ricky Martin's nephew assured that he had an intimate relationship with the singer
On the other hand, in the part where it says "Information on the petitioned party" the name of Enrique J. Martin Morales, artistically known as Ricky Martin.
His date of birth also appears, which was December 24, 1971, since he is currently 50 years old and is of American nationality.
In these same data there is a section that asks about the use of drugs and alcohol, where it can be seen that both boxes appear with a cross (X) in the answer 'yes'.
The interpreter of 'La mordidita', who has denied the accusations and informed that he will face the process responsibly, must appear in court on July 21.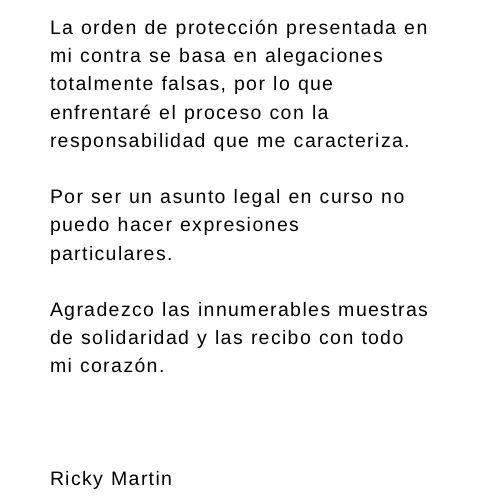 Source-news.google.com