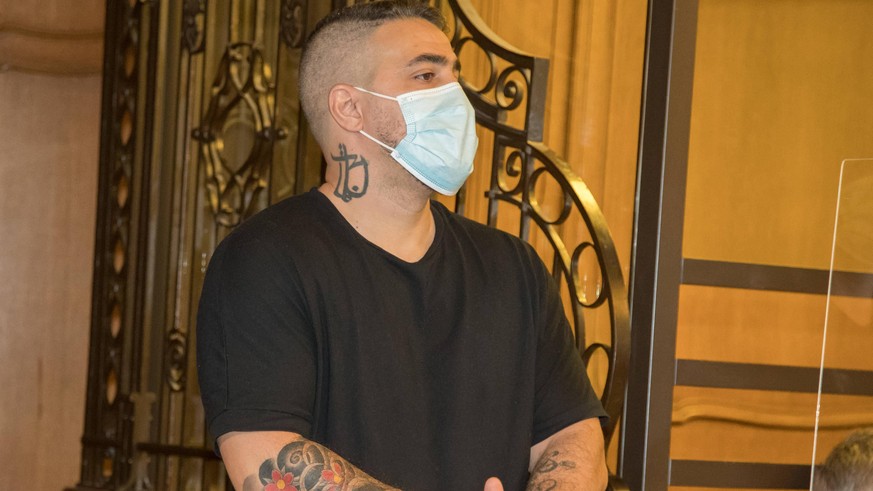 Bushido appears as a witness and joint plaintiff before the Berlin district court.Image: imago images/Olaf Wagner
Watson live there
03/23/2022, 18:2503/23/2022, 18:57
The trial of Arafat Abou-Chaker and three of his brothers entered its 65th round on Wednesday. Bushido was present again in the first half of the last day of the trial and therefore did not miss Samra's testimony. The 27-year-old said on Monday before the Berlin district court that he "didn't notice much" about the separation phase of the former partners. "During that time I smoked a lot of pot, half passed me," he said.
Hussein Akkouche, as the rapper's real name is, said he signed a contract with Bushido after the breakup. "I went to Bushido because I wanted to make a career. He was a role model for me, I saw my future with him", according to the "Cataleya" interpreter. The contractual relationship was dissolved because it did not fit between them on a human level. "We didn't harmonize. I wanted to go my own way, wanted to release more often, then he let me out of the contract," Samra continued.
Bushido and Arafat were "like an old married couple," the artist emphasized on Monday. He did not speak further with Bushido about Arafat. He only found out about the alleged incidents at the meeting in January 2018 in connection with the criminal proceedings from the Internet. It was recently announced that with regard to the audio document that has recently surfaced, no expert has yet been commissioned to examine the audio file. This file is said to have been secretly recorded on that day.
That's what the process is about
According to the indictment, criminal offenses are said to have occurred after Bushido wanted to dissolve the business relationship in 2017. According to the indictment, Abou-Chaker did not want to accept this and demanded a million payment from Bushido as well as participation in his music business for 15 years. The rapper was threatened, insulted, locked up and injured. The brothers, aged 39, 42 and 49, are charged as accomplices or accomplices.
Witness claims right to remain silent
On the 65th day of the trial, Bushido sat next to his lawyer in a white hoodie. So he was able to follow the next testimony very closely. DJ Gan-G, who once accompanied him on his tours and also set up his own events agency, was invited. It quickly became clear that the 41-year-old hardly wanted to answer any questions. His witness counsel made that clear time and time again. The most common answer he gave referred to paragraph 55, which stands for the right to withhold information. In doing so, he made it clear that he did not want to answer any questions that could incriminate him. The counsel emphasized: "My client has an extensive right to remain silent."
Judges and senior prosecutors see things differently
The witness' lawyer justified this with the fact that there were investigations against Arafat on suspicion of tax evasion in connection with alleged black money payments at club shows and concerts. Arafat, Bushido and his client have denied such events for years.
The presiding judge Martin Mrosk and senior public prosecutor Petra Leister could not understand this reasoning. They made it clear that DJ Gan-G would not answer any questions that did not involve Section 55. The deputy stuck to it: "He cannot answer unscathed, the right to remain silent extends to everything."
Jokes between lawyer and judge
Nevertheless, the judge persisted and said: "We approach each question." When Mrosk wanted to know whether Gan-G had borrowed a Mercedes from Bushido in January 2018, there was, unsurprisingly, no new knowledge from the witness. There was also no answer to the question of whether the DJ had noticed why Kay One had left the ersguterjunge label. The witness assistant said ironically: "You're going there with the scalpel." The judge smiled and replied: "With the foil." The pun didn't help, however, because the witness persisted in not wanting to answer. "My client is concerned about incriminating himself."
The judge finally asked him what the reasons for the separation were. Again, Gan-G responded with "Article 55." When he was finally confronted with the statements he had already made, in which he commented on the so-called fence dispute between Anna-Maria Ferchichi and Arafat, which happened in 2017 and is said to have been one of the first reasons why they went their separate ways, he explained witness now: "That is most likely what I said. I can't remember any more." Even when it came to the allegations of January 2018, the 41-year-old remained taciturn. "In 2019 you were able to make further statements. I'll keep digging," whispered the judge. But the unwanted answer followed again, because Gan-G promptly said, "I want to make use of Section 55."
"Are you asking me to incriminate myself?"
Later, the witness became clearer when asked to comment on the audio recordings. "I couldn't tell you from memory. I would like to refuse to testify. Are you asking me to incriminate myself? I am a defendant in tax proceedings and do not want to make any statements." The senior public prosecutor, on the other hand, made it clear that he was invoking the right to refuse information, which, however, would not cover the questions and therefore he was not entitled to the right. "I don't care about the content. There is no discernible tax burden," said Leister. Meanwhile, he was told that if he did not want to testify further, he would be threatened with restraints.
Judge fines Gan-G
When asked if there was an argument when Arafat and Kay One broke up, Gan-G finally said: "I don't know." He also stated that he also didn't know whether Kay One was gone at the time allowed to enter Berlin. At the end he was suggested that they repeat the questions so that he could reconsider his missing answers. Judge Mrosk emphasized: "Except for one question, you do not have the right to refuse information." But Gan-G replied: "I ask you not to repeat the questions again." Immediately afterwards, there was a pause.
When all those involved in the trial came back into the room, it was announced by the judge that a fine of 800 euros, alternatively eight days' imprisonment, would be levied against the witness, since Paragraph 55 only gives him the right to refuse individual questions. The Witness Counsel meanwhile made it clear that he would file a reasoned complaint against this decision within two weeks. The next day of the trial will take place on Monday.
All other articles on the Bushido process can be found here.
Source-www.watson.de