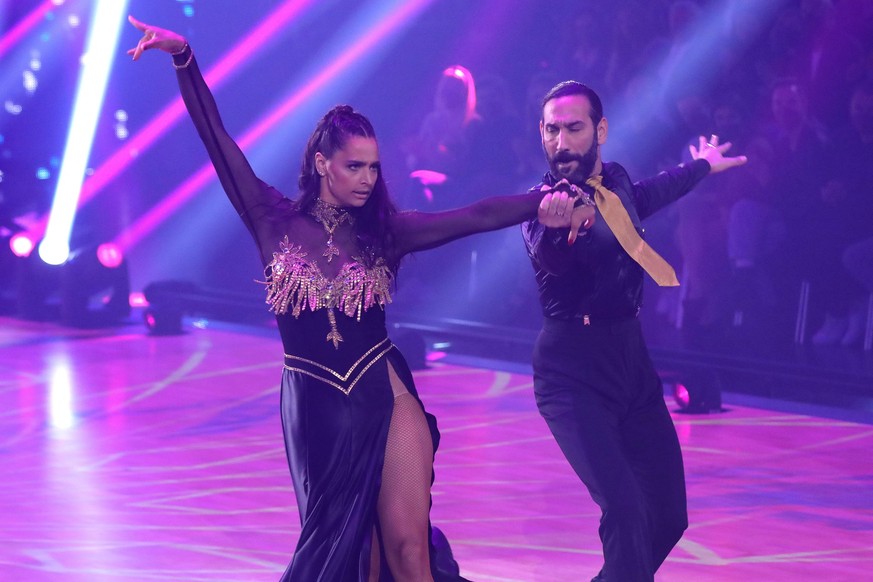 Amira Pocher made it to the semifinals in the 15th season of "Let's Dance". Image: Joshua Sammer/Getty Images
Alongside Janin Ullmann, Mathias Mester and René Casselly, Amira Pocher is one of the four candidates in this year's "Let's Dance" season who made it to the semifinals. The dance show demands a lot from the 29-year-old, because Amira is still the mother of two little boys, she is an entrepreneur and with "Hey, Amira" and "Die Pochers hier!" in addition, two podcasts that appear weekly. Not to mention the countless hours of training for "Let's Dance".
Amira Pocher's mother is looking forward to "quiet times"
Quite a workload that the native Austrian has to cope with. This fact also gives Amira's mother, Mirjam Svetnik, a headache. On the one hand she is proud of her daughter and her performance on "Let's Dance", but on the other hand, she also worries about whether Amira is really doing well. So she revealed now in conversation with RTL:
Because the way things are going now, that Amira has something to do around the clock, you can't manage that in the long run, she explained and honestly added: "That's why I'm happy when there's a quiet time again and that she can breathe again."
The 50-year-old tries to support her daughter as best she can, but there is a problem: Amira's mother does not live in Germany but in Austria. "I'm definitely here as often as I can. Since the children were born, I've been here more often and for longer periods. The distance obviously makes it more difficult, but what we can do, we do."
"Let's Dance" is so hard for Amira Pocher
Amira also admitted in her clip in the past "Let's Dance" show that the double burden is very difficult for her. "It's been very tough for me. I love 'Let's Dance', this show and these dances. But you only have to do that once in a lifetime. After that it's family time again." She has a lot to do in her everyday life and has to cook, pre-cook. "Then I still have to go shopping and coordinate things because of the children," explained Oliver Pocher's wife.
(swiss)
Source-www.watson.de