Viewers look forward to seeing "Fernsehgarten" presenter Andrea Kiewel and quiz master Johannes B. Kerner again at the Brandenburg Gate throughout the year. For the big countdown on ZDF, the duo will present the program "Welcome 2023" live from the capital.
But before primetime starts, ZDF viewers can get in the mood for the likeable moderation duo. Because: The broadcaster repeats the "Dalli Dalli" Christmas show again in the afternoon, in which Johannes B. Kerner moderates and Andrea Kiewel plays for prize money for a good cause. Apparently all means are right for her.
ZDF show "Dalli Dalli" sends David Garrett to get beer
First of all, it has to be said that the ZDF show, which was first broadcast on December 25, raised a whopping 53,040 euros for the Hans Rosenthal Foundation. Andrea Kiewel is therefore forgiven for one or the other violation of the rules under these circumstances. The tense atmosphere during the game "Go get a beer" does not go unnoticed.
Together with her team partner David Garrett, Andrea Kiewel has to place as many beer mugs as possible on wooden tables within 90 seconds. While the star violinist has to let the full mugs slide down the tabletop with two trays on his arms, Kiwi is responsible for filling the foam crowns. She has to stand by the beer keg throughout the challenge – at least that's what the "Dalli Dalli" rules say.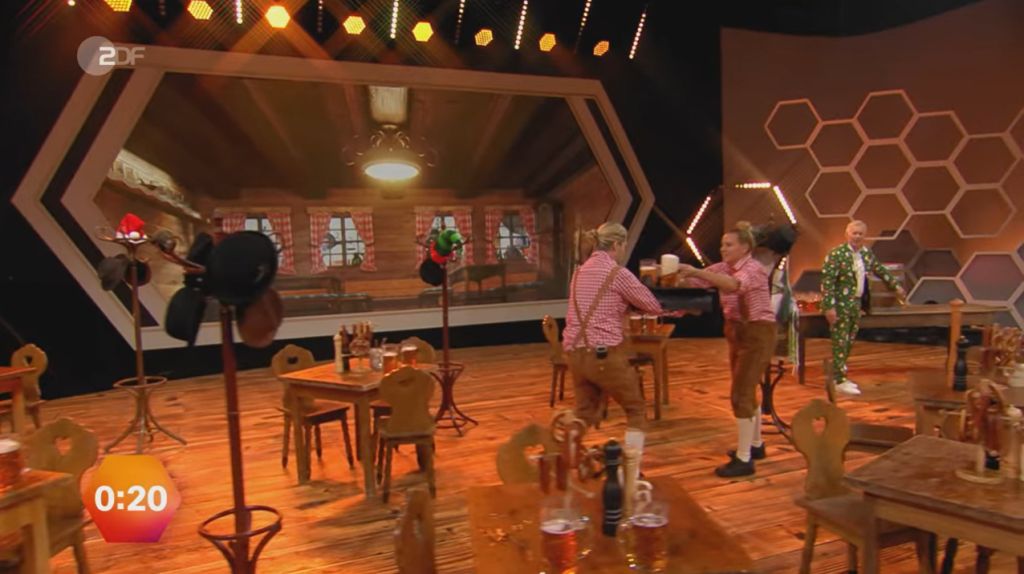 ZDF showmaster Kerner snaps at Kiwi: "It's unfair"
Andrea Kiewel commits the first violation of the rules when filling the glasses. So that it goes particularly quickly, the ZDF presenter simply leaves the tap of the beer keg running all the time, but that would be a complete waste of the liquid and would eventually soak the studio stage in beer. She is promptly admonished by Johannes B. Kerner.
She then runs towards David Garrett every time she fills two mugs, so he only has to balance the full beer mugs on his arms for a short distance – but that's the whole point of the game. "He still has to walk a bit with those things!" interjects Johannes B. Kerner. But that doesn't seem to bother Kiwi and David a little. Shortly thereafter, Kerner can be heard murmuring: "He has to go himself, otherwise it's unfair." If this weren't for a good cause, the show master would certainly have taken tougher action. But even after his announcement, Kiwi resists the collusion. "No! Don't bring it! No, Kiwi, he has to go himself," Kerner can be heard calling again. At this point, the 90 seconds are almost up.
---
More news:
---
We can only hope that Andrea Kiewel and Johannes B. Kerner will understand each other better on Saturday evening when they say goodbye to the year 2022 live at the Brandenburg Gate. The New Year's Eve show "Welcome 2023" begins at 8:15 p.m. live on ZDF.
Source-news.google.com