The artists assured that they were held against their will by the Bolivian authorities, in a process that also includes Don Omar.
The representatives of the duo Zion and Lennox reported that the artists were "retained", although later released, due to an accusation of "fraud" in a process that is followed by Don Omar, also a Puerto Rican and with whom they must share the stage in the cities of La Peace and Holy Cross.
In a statement, the artists reported that they have been in Bolivia "since January 18 to fulfill their commitments and obligations" and that the accusation of fraud for which "they are being held against their will" by the Bolivian authorities is "not real."
YOU MAY BE INTERESTED: They issue an arrest warrant against Don Omar and the duo Zion & Lennox
They also mention that the presentations scheduled in La Paz, which took place the day before, and the one tonight in Santa Cruz, were initially postponed for one day due to "force majeure and totally unrelated acts of God."
The artists "are willing to carry out the show in the city of Santa Cruz today," despite the fact that on this day they had to leave the country due to other performances abroad scheduled in advance, it was indicated in the statement.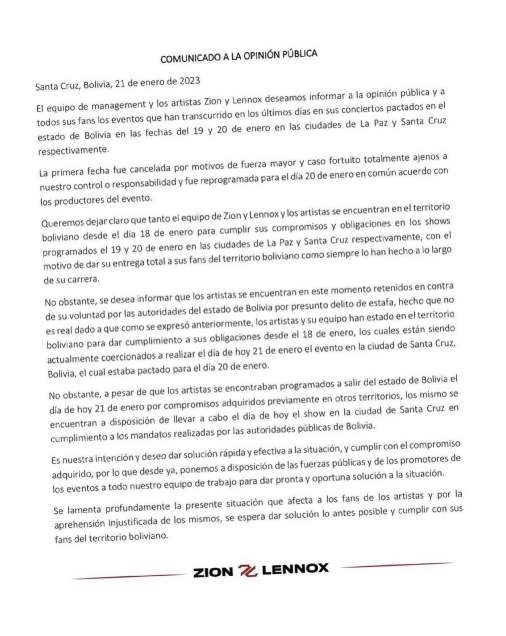 Local media reported that Zion & Lennox were released after about three hours and are preparing for the performance in Santa Cruz at night.
Don Omar's presentations, accompanied by Zion and Lennox, in La Paz and Santa Cruz were postponed one day due to a problem with the flight that was supposed to bring the Puerto Rican artist from the United States to Bolivia.
READ ALSO: "Why do they dislike me?" This is the question that El Ricky asks his followers
However, this day it was learned of an arrest warrant against William Omar Landron Ribera (Don Omar) for a complaint of "aggravated fraud" filed by the Vice Ministry of User and Consumer Defense and which was extended to five other people, including his manager and his brother Hector Landron.
In statements to the media, the lawyer Silvestre Ibáñez reported that a "conciliation" process was finally reached in which before a prosecutor the parties "explained their position" and agreed that Don Omar and Zion and Lennox "are going to sing" and Your flights will be rescheduled.
The arrival of the Puerto Rican artist was supposed to take place at the beginning of December, but it was suspended due to the conflicts and the indefinite strike in the department of Santa Cruz, so it was scheduled for this week.
Source-news.google.com